People want stock footage/images that doesn't look stock.
It seems like in the past few years, the word "Stock footage" started to be mentioned in a negative kind a way. Designers started to use it as an "offensive" word when reviewing design work and overall it felt like 'Stock' means — 'bad'.
About a year ago we noticed a need for background videos as a growing design trend. You know, those short looping clips of video which play in the background of web pages, adding a more dynamic and engaging element than the standard photos you're used to.
We were shocked to find that nothing like the Unsplash of video existed. Yes, there were some options for stock videos, but they were either quite expensive, or looked like…well, stock.
That's how the idea for a simple side project (Coverr.co ) was sparked — a new place where you could download free high quality videos for the header of your website.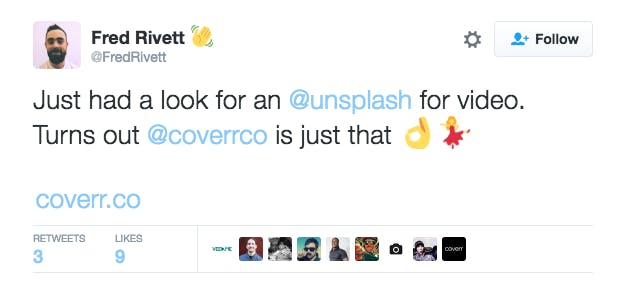 Veed.me took responsibility for shooting and collecting video from the community and Coders Clan managed the site development and provided the code snippets for the videos' implementation.
In the past year, we've had over a million downloads of videos, from which we gathered some important insights and data on the stock video space. Here they are:
Web Developers and Designers as Main Consumers
For any product or project to be a success, understanding your audience is paramount. We found out that the stock footage space targets three main audience types, with unique needs:
Designers and Web Developers:

with the design trend of background videos, designers and web developers use stock clips in both the mockup and final production stages of their projects.

Filmmakers:

Filmmakers will often rely on stock video footage for

b-roll requirements

. A stock clip is sometimes just the right missing piece they were looking for to fit a specific gap in their video.

FilmSupply

is an example of a resource they often turn to.

Small Business Owners/Bloggers:

With the rise of platforms like Wordpress, Wix, Shopify, and Weebly, building your own website, blog, or e-commerce store has never been easier. A small, but relevant chunk of our audience includes everyday people who want to put a video on their own website.
The majority of our users fall into the first category, of web designers and developers, so their needs were our first priority. Not only did the clips need to be easy to download and implement, they needed to have a certain aesthetic. We kept trying to understand what makes the perfect background videos for these specific needs, and with some feedback and our own intuition we were able to zero in on it.
They want stock that doesn't look like stock
Blurry skies and tech in. White teeth and fake smiles out.
Just like stock photos, stock video footage is often full of cliched, or overly staged shots. That's because stock videos usually feature requested footage, such as business meetings and busy street shots. Since these are so often searched for, that means everyone is using the same tired footage. The clips don't feel authentic or interesting. When they're staged they somehow seem less credible.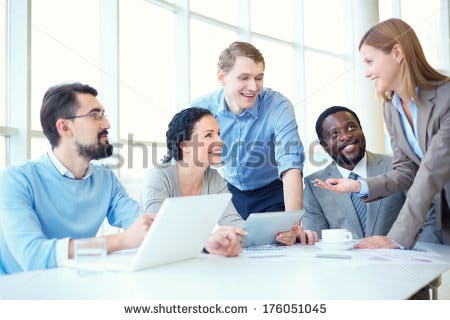 That's been one of the biggest pain points our audience shared with us, and that's why Coverr set out to freshen up stock material market.
When we say videos should be more authentic, we mean that they should focus less on studio-like footage, but more on interesting and unique shots. It's no wonder that some of our most downloaded videos were actually shot with iPhones. The end result is stock that doesn't quite feel like stock.

One thing we found out to be particularly useful at Coverr was opening video submissions to the community. Coverr's community proved to be a persistent resource for original video footage that doesn't look like generic stock footage.
That being said, Coverr clips do of course follow some general guidelines (for example, noisy or shaky clips never make the cut).
"Uncoverring" Coverr's Data
One of the most fascinating aspects of running Coverr has been seeing the data on which types of videos are most in demand with our users.
While there are basically endless types of videos and style, it seems like we found a favorite type amongst our users.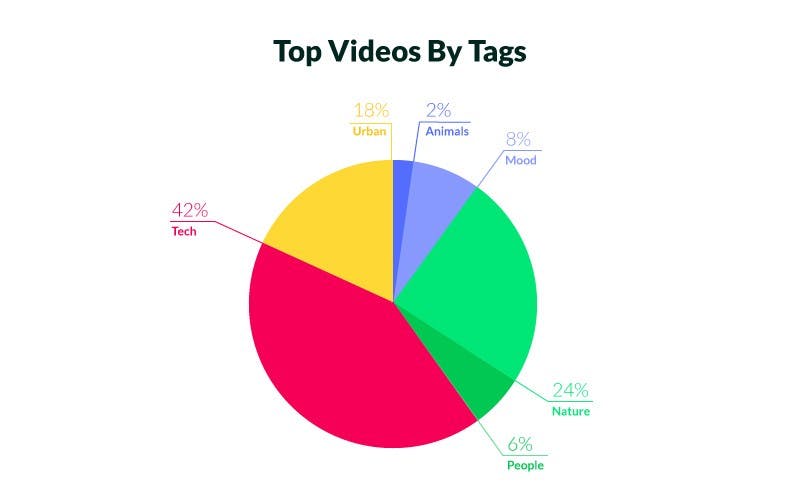 As you can see, we've witnessed a huge trend towards tech related videos, with these making up the majority of downloads. These include clips of things like coding, designing, and working people.
Nature shots — flowing water, sunsets, clouds, slow motion movement — are also very popular on Coverr, as they add aesthetic panache but can also be used in a variety of general ways..
Converting Videos = Converting our Audience
Going back to understanding our audience and providing a product that's relevant to them, we put a lot of thought into the format the videos are presented in.
On all competitor stock video websites, video files are over 50 MB, which are too large and means that they need to be converted before use.
When used as a website header, the video has to be specific format and size. Coverr optimizes for that and is the only service that provides the files converted exactly to the standards of developers and web designers.
Summing Up:
The market for stock video footage is a huge one, and there's a lot of room for improvement based on creativity and authenticity.
Most stock video websites are very general — by trying to please everyone, they are pleasing no one and becoming a commodity, with the end result being that everything becomes bland, generic and staged-looking. The magic happens when you understand your audience's needs and cater to them, ensuring that you're bringing value, not only in the content but in the whole experience around it.
As a vision of growth , we already established great partnerships with companies like Weebly, Wisestamp and more, who use Coverrs in their products. We plan to expand our unique library of videos beyond the Designers and Web Developers audience and make them more accessible to users of all platforms.
Also, expanding our community of contributors is one of our main focus points — we plan to add more product features to enable easier contribution and working on strengthening our ties with the community.
We'd love to hear your thoughts on Stock Videos and happy to chat if you think we should — [email protected] 👋
Thanks Marsha , for helping to write this piece! ;)
Read also:
Public Domain Videos: What are they and how are they used?
Where to Find Archival Footage for Your Videos