How Coverr.co went to #1 and got over 1,200 upvotes on Product Hunt.
Quick summary of what you're about to read.
A month ago, Coverr , a side project of our two startups, (CodersClan and Veed.me , two marketplaces in the coding and video space) was surprisingly "hunted" on Product Hunt. It caught fire pretty quickly, rose to #1 and garnered over 1200 upvotes . And it was all 100% organic.
After this whirlwind, we decided to analyze how everything happened and why Coverr was such a success. Here are our insights.
Everything went wrong, and yet…
Coverr was hunted at what we thought was the worst timing possible. It was a weekend evening, seven hours after the daily list started (at 12am PST), and we were 250 votes behind the #1 at that time. All the people involved in Coverr were unavailable and it was useless to ask people to start sharing the link.
Luckily, our tagline was in place…
It's all about the tagline
If you put aside all the social begging for upvotes, you'll find out that what really makes people want to check out your product on PH is the tagline . That's why many people want to carefully plan their PH launch.
Luckily, the guy who hunted us copied the tagline from our website, which apparently really worked.

The F word
To be honest, we were not surprised that Coverr did well on PH. And that's because it's free. Freebies will always attract people, because it's not just affordable, it's not cheap, it's FREE.
Of course, not all products are free, so we had this unfair advantage of people getting some value out of it no matter what. We were lucky to have this F word in our PH listing and no doubt it helped us.
Shine bright like a diamond
True, your product may not be free and it shouldn't be, but Product Hunt has a feature that will still let you shine over the others: the exclusive offer star . Think of something you can offer only to PH visitors — Discounts? Special service? We gave a couple of extra free video sequences that were available only to PH visitors.
Try to think about what you can offer. We knew from the beginning what we'd like to offer and we had it ready when we were hunted.
The people behind Product Hunt are there to help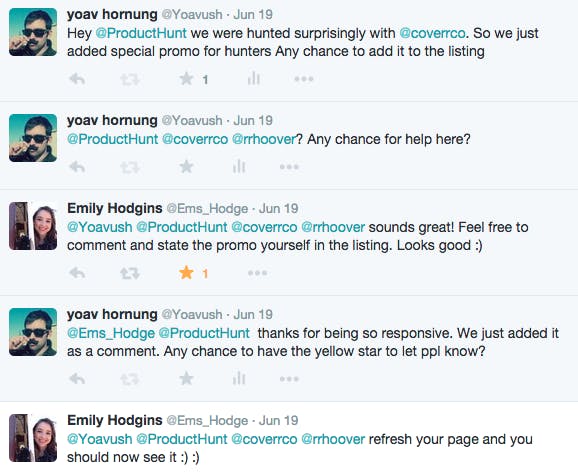 We were "Product Hunt Material"
What got us there? The Fact that we gave out Free Videos and Code Snippets.
You have to understand the Product Hunt audience in order to be able to guess what will do well there and what won't.
The majority of the Product Hunt audience is filled with web designers, software developers, bloggers and big techies. So obviously if you offer something they need, they will talk about it and spread the word.
Bottom line
Give the people a product that provides immediate value to them, that's what they want and that's what they like.
Value works best.
Thanks to Uri Ezra
Read also:
Public Domain Videos: What are they and how are they used?